Explore The house
Our labor of love can be yours.
A few details about our home.
Our exterior is metal siding standing seem with touches of warmth. We put cedar siding as well tastefully around to add that dimension to our little tiny square box. We love the look of cedar and have seen it years ago on a beautiful home with the same colors we picked for our home.
For the exterior we used shiplap pre primed and painted it white. Why? We love that look of clean lines yet soft homey feel.
For the flooring we used a 100% waterproof flooring called Smartcore pro. It's a vinyl plank flooring. We even used it on our shower wall…still holding up nicely. Why? We love the practicality of it.
Ceiling is made with shiplap and we made 3 wooden beams to add character.
In the kitchen we had to be practical first and build according to our needs. Yet with the design or art of it we had a coffee table we had for years that we loved but it was too big for the tiny so we cut it in to upper shelves for our dishware.
Our cabinets are made of wood that we painted a light grey to add texture to our already white walls
We plan to use tile for backsplash but have yet to see "the one" we love.
We tried to keep everything open and airy since it's a small space. It works perfectly. We once had five of our friends helping prep for our BBQ, all of us chopping and cooking in my tiny kitchen!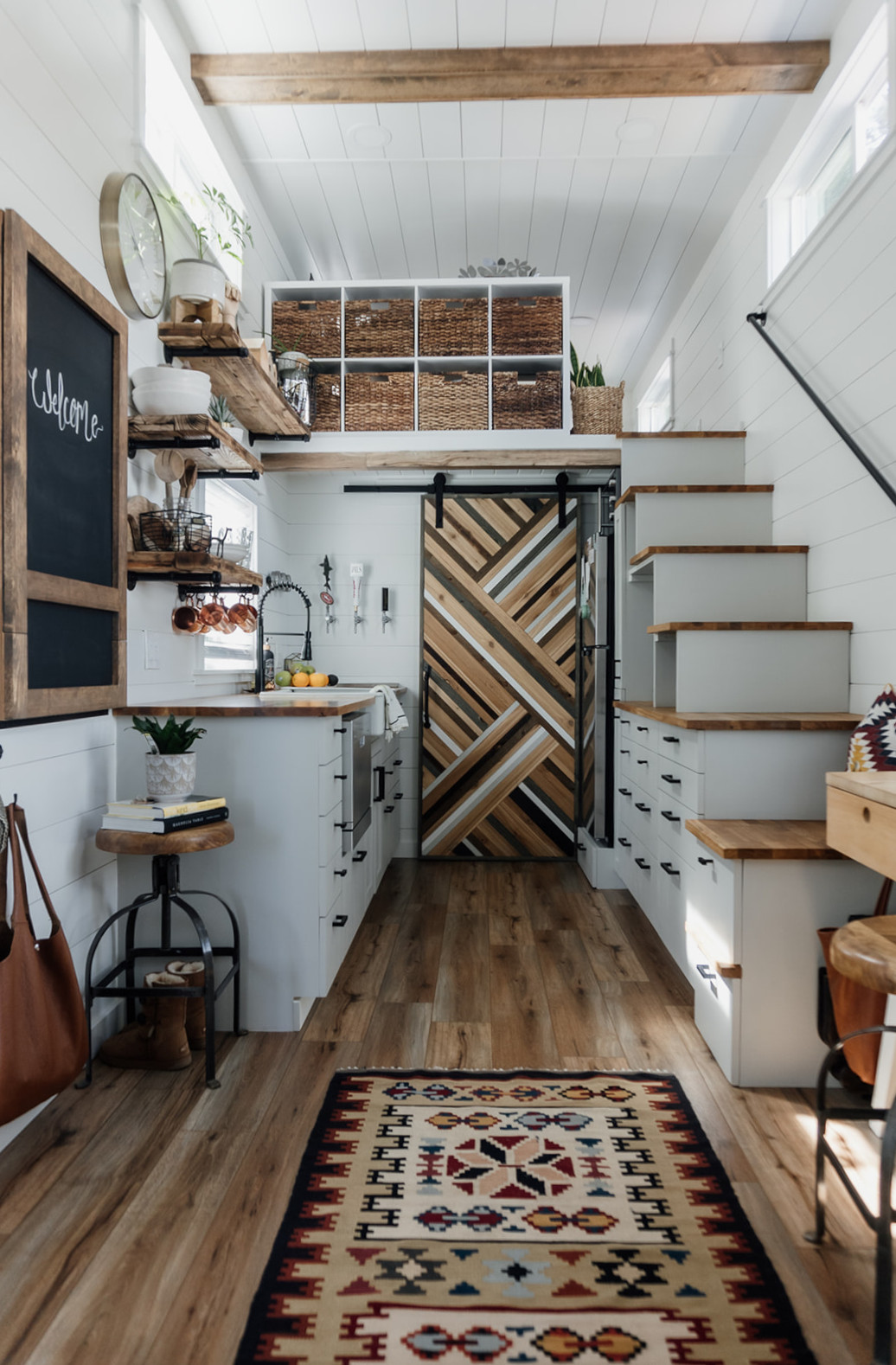 Welcome home! Let us take you on a tour. Can you imagine yourself living here?
Our tiny home journey started 4 years ago with an idea.
We spent the next year painstakingly designing every detail of our new home.
We've been constructing luxury houses for 20 years. In the process, we've aced the complexities of bringing dreams to life. We've developed an eye for detail that pleases our clients. Over these years we've gotten very good at what we do.
Tiny homes provide a unique opportunity to concentrate that level of professionalism into a small, extremely well-executed space. 
Get 30% Off our tiny home plan
Take advantage of this discount offer to start your journey.